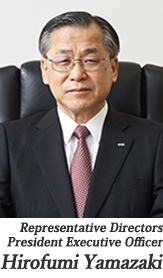 The history of "Tayca Corporation" dates back to 1919, when the company was founded as "Teikoku Jinzo Fertilizer Co., Ltd.," with sulfuric acid and superphosphate fertilizer as its key products. Ever since its foundation, we have devoted ourselves to the production and marketing of various industrial chemical products, adapting ourselves to the changing needs of time and society. These products include items such as titanium dioxide, surfactants, and various types of phosphates. We have based our business upon a high quality method of sulfuric acid-related technology.
At present, we utilize sulfonation, surface treatment, and dispersion technologies that we have perfected over many years to create specialty products, including conductive polymers and related products for high performance capacitors, and surface treatment products and micro titanium dioxide for cosmetics. We are likewise working actively to extend these technologies to expand our business. At the same time, we are striving to construct new businesses that will support Tayca in the future. Our targets include the environment and energy sector, the electrical and electronics sector, and the medical and health care sector, and we are working towards the early commercialization of new products in these sectors.
In December 2019, Tayca Corporation celebrated the 100th anniversary of its foundation.As a company to be continuously trusted by the society in the future, we plan on working toward achieving a sustainable society and increasing our corporate value by impressing our customers using the power of chemistry and creating novel values considering the global environment.